Automated timely news from the
Deutscher Anwaltverlag

About the Deutscher Anwaltverlag
Deutscher Anwaltverlag from Bonn is one of the most renowned, practice-oriented legal publishers in Germany. With over 500 titles and 15 journals available, the lawyer will find the right tool for every case. The series "AnwaltFormulare", "AnwaltsPraxis", "AnwaltKommentar" and "Das Mandat" offer first-hand information – from practitioners for practitioners.

The Deutscher Anwaltverlag family also includes other strong brands such as ZAP-Verlag, Das Deutsche Anwalt Office, Deutscher Notarverlag, zerb Verlag and ReNoSmart. The online offering comprises a total of ten websites, which in addition to the classic publishing offerings also include an online library for paralegals and notaries.
The Challenge
Many websites with constantly new content and updated literature
Limited marketing and tech resources
Communication is supposed to be modern, fast, flexible and practical
Direct customer access and 100% data protection compliance are elementary
In hardly any other professional environment is it as important to always be up to date as in that of lawyers. Whether it is the latest case law, procedures or deadlines – if lawyers, notaries and ReNos are not up to date, it can have serious consequences. Therefore, timely information about new content and publishing offers is extremely important.

Due to the many topics and changes, keeping all website content up to date is a major challenge in and of itself. But how can customers still be informed about news?

A simple, streamlined, modern form of communication in the style of instant messaging was required, whereby WhatsApp and Facebook Messenger were out of the question, as broadcasting news would violate their guidelines.
What to do when even 2-3 minutes of effort per message is too
much?
The introduction of push notifications with the Signalize service has fully lived up to the promises, namely to generate minimal IT effort in integration, to be positively received by website users (in the form of high consent rates) and to create messages in just a few minutes. The click rates were also impressive: always well above 10%.

Nevertheless, it was only possible to send a message sporadically, as too many tasks weighed on the small marketing team. Therefore, the desire arose quite early to make the messaging even easier and, if possible, completely automated for new content on the website.
The Solution: Marketing Automation
RSS-to-Push Automation
Even though RSS readers have fallen out of fashion, an RSS feed is still present in most content management systems, making it a great vehicle for sharing new content in a structured way. Signalize offers the possibility to store RSS links and to query them automatically on a regular basis. As soon as new content is detected, messages with the appropriate news can be sent.

To ensure that not every subscriber is informed about every news item, but is only provided with the desired content, the subscriber is already given a choice of topics at the opt-in stage on which he or she would like to be informed by means of push messages. This increases customer satisfaction as well as customer loyalty.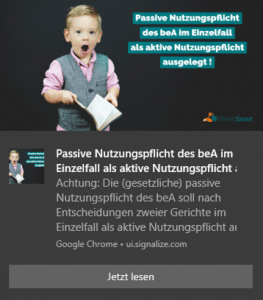 Web Push News from Deutscher Anwaltverlag
Behavior-Based Campaigns
Other automated processes ensure that messages are sent without employees having to deal with them on a day-to-day basis. If recipients do not visit the website for a longer period of time, they are sent an appropriate message,
as well as when they leave products in the shopping cart. Thanks to Signalize's integrated user and event tracking, the reactivation and reminder campaign was launched in minutes.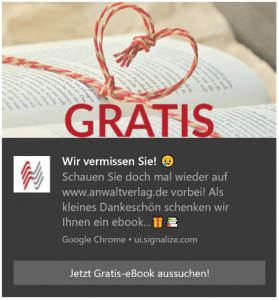 Reactivation-Push of Deutscher Anwaltverlag
The result is impressive
Automatic Messaging Every Week
Because it's completely automatic, messages are sent at least once a week, no matter how heavy the workload is on the team. Now customer engagement via push can't be forgotten or "fall behind".
300% more clicks and conversions
Although the approach via push message can no longer be customized and optimized, e.g. by inserting matching emojis, the average click-through rate is only slightly lower than the manually created one. Overall, the automation resulted in a 300% increase in clicks per month, as the messaging frequency was significantly increased.
Conclusion
Even if marketing automation using artificial intelligence is hyped, excellent added value and relief can already be achieved by "simple" rule-based automations.
RSS-to-Push is a proven example of automated content distribution. In addition, there are many other recommended if-then rules such as triggered notifications for abandoned carts, prolonged inactivity, as a follow-up for downloads, and many more.

An additional increase in relevance can be achieved by having the automated campaigns sent in segments: RSS-to-Push according to interest focus based on previously viewed articles or ordered products.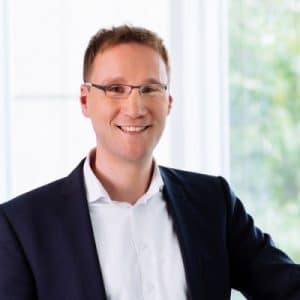 "Push notifications are great for keeping our customers informed about the latest
content. The connection of Signalize to our RSS feed
makes the notification about news and offers completely
automated. This allows us to focus on content creation and creative
campaigns."