Dorint strengthens customer loyalty
through web push marketing
with Signalize
About Dorint Hotels & Resorts
Dorint GmbH has been operating around 60 hotels in Germany and Switzerland under the Dorint Hotels & Resorts brand for 60 years. This makes the Dorint Hotels & Resorts brand one of the leading hotel chains on the German market. Dorint's offers are aimed at travelers with different interests and needs, which is reflected in the individual character of each hotel and the wide variety of locations.
Summary
Challenges:

Increasing price and margin pressure from booking portals, among others
High effort for the creation and sending of e-mail newsletters
competitive search advertising and ad remarketing
Limited marketing and tech resources


Result:
Additional marketing channel for direct marketing communication
High acceptance with 4.5% consent rate for browser notifications
On average, more than one message per week thanks to minimal time investment
High click-through rates of up to 25% and higher value per booking than newsletters
The Challenges
Booking behavior is changing rapidly in the hotel industry. Competition on the internet is fierce. Therefore, a key focus of Dorint's marketing is to build relationships with customers in order to encourage them to book directly on the next occasion and to build loyalty to the Dorint brand. The objective was not to replace existing channels, but rather to supplement them, thereby increasing the frequency of communication and
to increase customer loyalty. Another crucial condition was that the introduction had to involve minimal IT effort and that the marketing staff had to be enabled to create campaigns in a lean and simple manner in just a few minutes. The opportunities and potential of new channels and tools should also be exploited at an early stage in order to stay ahead of the digital competition. This includes adapting marketing activities to changing communication behavior away from e-mail and toward instant messaging.
The Solution
Web push notifications – also called browser notifications – is a newer channel in dialog marketing. Due to Facebook's policies, WhatsApp and Facebook Messenger themselves can only be used for 1:1 communication. Web Push, on the other hand, can be used to
send short messages out messenger style to many recipients directly on their screens. The notifications appear on the screen regardless of which website is currently being accessed – and even which app is in the foreground.
With Signalize, etracker offers a software-as-a-service that enables the use of the new Web Push channel in combination with intelligent behavior- and interest-based targeting of messages. Due to the fact that Dorint already uses other products from etracker, the technical integration of Signalize was completed in just a few minutes. However, integration into the website and setting up the opt-in is a matter of minutes or a few hours at most for new customers.
Web Push scores particularly well when it comes to creating messages:
Significant reduction in time spent by users
Easy segmentation of messages and automation of trigger-
campaigns
The Result
Tens of thousands of recipients in just a few months

Just how well Web Push is received by dorint.com website visitors is demonstrated by the fact that Dorint was able to collect a high five-digit number of recipients within just a few months. This means that almost five percent of invited visitors choose to receive notifications from Dorint.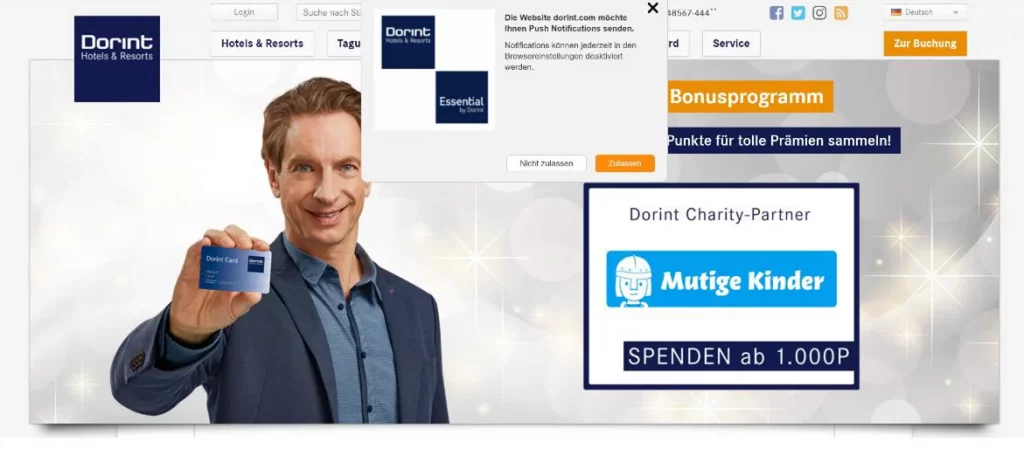 Invitation to the Web Push Notification Service on dorint.com
Five minutes for one or two messages per week

It is in the nature of Web Push that creation and sending is easy and fast. Built-in tracking allows Signalize to select specific recipient segments with just a few clicks, for example, by the hotels most viewed by recipients. Because it's so straightforward, messages are sent at least once a week, often several times a week.
Dorint is happy to take advantage of Web Push's additional optional design options, such as the larger images above the message and the extra buttons.
More successful even than email newsletter

The average click rate of 6.4% is impressive. Individual messages were even clicked by every fourth recipient.

Web Push is great for intensifying customer engagement and bringing users back to the website. After just a few months, it became clear that Dorint's web push recipients visit the website around 60% more often than newsletter subscribers.

Bargain hunters are not the only ones attracted to this, because the average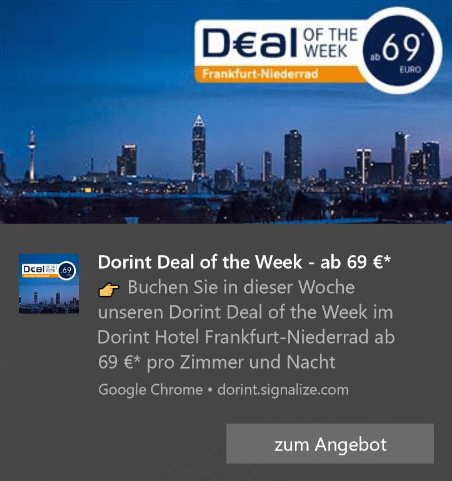 One of the web push messages from Dorint
We use Signalize to inform our guests quickly, efficiently and in a targeted manner about news and
sales. In a very short time, additional functionalities for Signalize
were developed so that the product now has a regular place in our customer communication.
"