Segmented news matching the car brand

About Hugo Pfohe
As a Hamburg-based family business, Hugo Pfohe GmbH has stood for fair car trading since 1919. The company has transformed itself from an automotive pioneer to a broad-based service group. Starting with the Ford brand, Hugo Pfohe was able to add other popular automotive brands to its portfolio over time. Today, the company also presents the brand worlds of Jaguar, Land Rover, Mazda, Kia, BMW and MINI in addition to Ford. As one of the largest automotive dealers in northern Germany, Hugo Pfohe has nine locations in six northern german cities.
About KONTOR4
We believe that using your website exclusively is not enough to be successful online as a business. We also know that it is increasingly difficult for companies to keep track of all relevant platforms and channels. That's why we support our customers to be more visible and more noticed online without resorting to jargon. down-to-earth and free of bullshit. Since 1999.
The Challenge
Diverging preferences of customers because of diversity of brands and different locations
Customer loyalty is of central importance
Communication should be modern and effective
100% data protection compliance is mandatory
In the car trade, a lot of news are brand-specific and visitors are usually interested in models of a specific brand. Land Rover customers, for example, are rarely receptive to offers on KIA vehicles. Therefore, targeted communication according to brand preferences is immensely important.
Hugo Pfohe has shown throughout its more than 100-year history that tradition and innovation need not be a contradiction. On the contrary: open to new developments, Hugo Pfohe has also closely observed the changes in communication brought about by instant messaging and social media feeds.
However, Hugo Pfohe does not follow every trend just to be part of it, but adapts the instruments and measures that really resonate with customers and contribute to an increase in success.
Do website visitors really consent to notifications and do they also click?
At KONTOR4, many were initially skeptical about the relatively new channel of push notifications. Push sounds like "pushy" and the consent dialog – although coming directly from the browser – reminds some people of annoying ads via pop-up windows or cookie consent dialogs. Both are often considered to be annoying.
This is a faulty association. Push notifications exclude unsolicited advertising, because they send messages only after prior consent. But most importantly, push signup offers real value to the visitor. They can be briefly and crisply get informed about news and offers that interest them.
In fact: About 10% of website visitors sign up for the notification service. The average click-rate calculated on the basis of all messages sent is above 10%. (October 2020).
Behavioural segmentation for more relevance and success
In order to provide customers with targeted news, topics could be offered for selection during registration, for example. At Hugo Pfohe, interest-based push is made even easier by deriving visitors' preferences from their behavior.
For example, with the help of behavior-based segmentation, only users who view content about Ford models get the following message: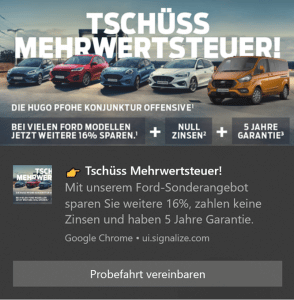 Segmented web push message to people interested in Ford
In this case, the recipient selection takes place on the basis of the top pages:

Here is another example based on the same segmentation option: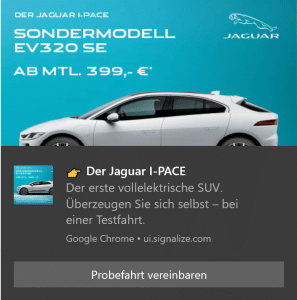 Segmented web push message to Jaguar and Rover interested parties
Segmentation is particularly easy to perform because Signalize automatically captures and assigns all page views from recipients. As a result, receiver selection does not require any additional resources in tag integration or connection to external data sources. Targeting by behavior is built into Signalize and the associated data flows in automatically.
Of course, messages are also sent to all customers who have agreed to receive push messages. These can include sales offers or important service information that is directed at all customers and is not brand-specific: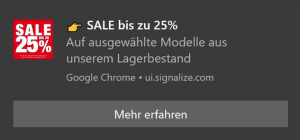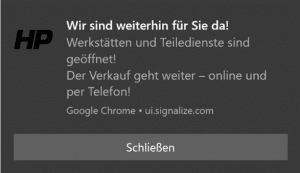 Examples of push notifications to all recipients
Conclusion
The supreme discipline in marketing communication is to send notifications that match the interests of the recipient. Based on behavioral data, this is particularly easy with Signalize. This is because the large amount of automatically collected data and the direct selection option during message creation make it no problem to play out exactly the messages to customers that meet their personal interests and current needs.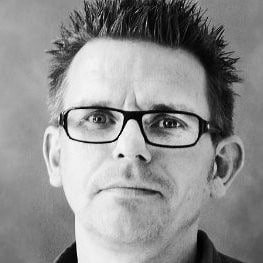 After we implemented Signalize and looked at the data after a few days, I didn't want to know anything more about my original skepticism. Push notifications definitely belong in the marketing mix of a modern and targeted communication strategy. This is where tradition and innovation go hand in hand.""