Agile Communication is more in Demand than Ever.
Everyone is affected by the effects of the Corona virus, both in their personal and business lives. Some especially hard, as they struggle to maintain their livelihood. Regardless of how severely and in what way a company is affected: All of them must be able to react and communicate quickly and flexibly, because circumstances can change every day and customers expect to be kept up to date in near real time.
Necessity is the Mother of Invention
Cultural institutions and artists are creatively creating new ways to disseminate their offerings through video and social media channels. Even smaller stores and service providers have to respond to closures and outages more or less overnight and invent new ways of contacting, ordering and delivering for themselves. Quite a few entrepreneurs spontaneously extend the communication to WhatsApp and Instagram to map the complete interaction there.
The big advantage for customers and companies is that they are familiar with these channels and no new tools have to be purchased or set up. For communication with individual customers, the comment or message functions of the platforms can be used without any problems. Real broadcasting, on the other hand, is prohibited in the messenger platforms. The sole dissemination of news via Facebook, Instagram, YouTube & Co. is also problematic, as there is only limited control over who receives which message and when. That is why there is no way around direct communication. An obvious, straightforward, and effective solution is direct messenger-style communication through dedicated channels: Push Notifications.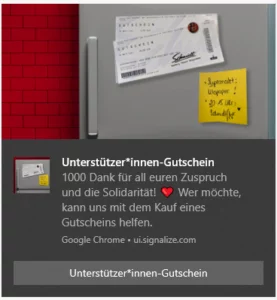 Why Push Beats Email Right Now
Currently, there is no time for complex implementations, long coordination rounds and fixed messaging cycles. In all these respects, push marketing beats traditional email newsletter marketing hands down. Title, short text, thumbnail and the message is created. That's modern communication, messenger style. The messages don't end up in a mailbox first, possibly specially sorted out as advertising mails. Instead, they appear directly on the screens and thus enjoy maximum attention.
Reach even iOS Devices through Wallet Push
The only downside with Web Push (or also called Browser Push): It is not supported by iOS devices, i.e. iPhones in particular. There is a solution for this as well, namely the so-called Wallet Push. Users can add a News Card to their Apple Wallet with consent and then receive push notifications just like all other device users. So, to give all users the chance to subscribe to push messages, the integrated combination of web and wallet push is recommended.
Customer Loyalty in the Crisis
In these times, it's more important than ever to stay connected with users. At the same time, not only pure advertising messages with product offers should be sent. It's no longer "just" about bargains, but about inspiration and entertainment, and about providing positive identification during the crisis. Even if there are special challenges at the moment, you want to pursue your passion, hobby and interests. Videos, online trainings and podcasts are particularly popular. Push messages are an excellent way to make interested parties aware of new offers and content.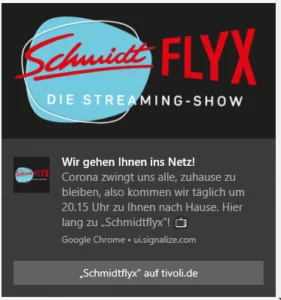 This crisis is thus the right time to include the new channel Push in the communication mix and thus build a closer connection with users, which will lead to more success and smoother processes even after COVID-19.