Push notifications are small clickable messages that, once sent, appear directly on the screens of logged-in recipients to take them back to the website or app.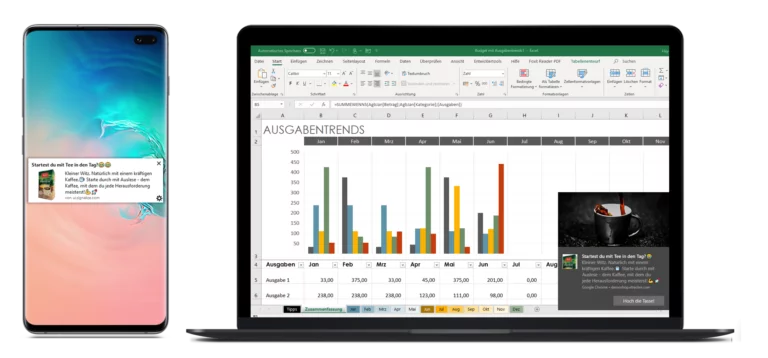 There are four kinds of Push Notifications: Web, App, Wallet und Messenger Push.

Its true for all of them: the new channel is fun to use because it takes no time at all to create and send notifications.
Push notifications are used for content distribution as well as customer engagement and are a new form of marketing communication fit for the messaging age. After all, social media and messenger services have permanently changed communication behavior. This leads to companies needing more agile marketing communications than ever before to keep pace with their customers.
Since push notifications are only sent after consent and logins and logouts are completely managed by the browser or operating system, they are also particularly privacy-friendly.
Whether B2B or B2C – numerous content and use cases can be found for every industry and every company:
Notices of new content such as blog articles, whitepapers, videos, etc.
Invitations to participate in events such as online seminars or store openings
Product and assortment news
Promotion of special offers and discount campaigns
Onboarding or after-sales tips
Follow-up campaigns for shopping cart saving, reactivation, etc.
Transactional messages for appointment reminders, shipment notifications or alerts
Owned Media First.
The direct line to the customer is more important than ever before.
Two major challenges will keep marketers busy in the near future:
On the one hand, ad remarketing is in massive danger due to more strongly enforced legal regulations and browser restrictions.
001. // Remarketing vs. data protection
If the requirement for informed, active, voluntary cookie consent is met, cookie-based advertising suffers tremendously. Likewise, Apple and Mozilla are constantly tightening the tracking protection of their browsers. Permission marketing offers an alternative here, which does not require personal data and is proven to be GDPR-compliant.
002. // Gatekeeper-platforms
Whoever controls customer access controls the market. In today's online market, it is primarily the so-called GAFAs (Google, Amazon, Facebook and Apple) that dominate the market with attractive services. However, the greater the dependency, the greater the risk of being left behind in the event of algorithm, cost and other changes.
Why use a new channel?
There is E-Mail after all!
In contrast to SMS, e-mail continues to enjoy great popularity. The mobile marketing mix should also not be about whether email, social media or push notifications, but rather about an intelligent mix of all of them, with mobile push offering unique advantages:
Email is not real time, it lands in the inbox first, possibly even in the ad tab. Push notifications, on the other hand, have a 90% open rate compared to 25% for email*.
Writing and sending emails is laborious. Creating push notifications is even really fun: short text, link and thumbnail image – done!
Email lends itself to more comprehensive content and weekly to monthly updates that are not reflected on the website in the same way. Push notifications, on the other hand, tolerate more frequent frequencies and also promote "small" news, tips, offers, etc. excellently. Communication messenger style.
*Quelle: Branchen Benchmark E-Mail Marketing Newsletter2Go 2019
Aren't Push Notifications too pushy?
The thing is with push messages: only if you consent, you get them. Those who don't want to see them can just unsubscribe. Standardized via the browser, messenger service or operating system. Spam is therefore not really possible.
The invitation mechanism can usually be configured to the individuum. It can be configured, that the opt-in dialog appears only after the user clicks on an element integrated into the web page for example. No matter how prominently the invitation is displayed, it will not appear after a rejection.
Depending on the channel, you can expect a consent rate of between five and ten percent; for apps the rate is significantly higher.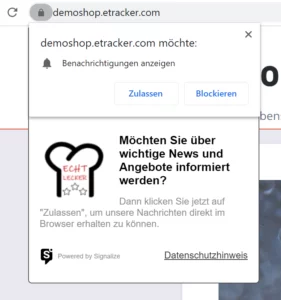 Here they are: The four types of push notifications
Web
Push
On desktop and smartphones except
for Internet Explorer und iOS-
devices
App
Push
messages from Apps, depending
on existance and dissemination
Wallet
Push
Notifications via Apple
Wallet News & Loyalty Cards.
Messenger
Push
Via WhatsApp for 1:1
communikation und facebook
messenger für news-media.
01 Web Push
Messenger-like via browser, without
content and amount limits
001 // This is how Web Push works
On the website, visitors can consent to receive messages. Then, recipients receive messages directly on their (lock) screen. By clicking on the message, they are taken to the target page.
002 // Anatomy of a
Web Push Notification
Web Push Notifications consist of a short title, the message and a destination link. Optionally, messages can be enhanced with small thumbnail images, large images and buttons.
003 // Pros and Cons of Web Push Notifications
Pros
Extremely attention-grabbing
Brief messages to the point
Appear on the screen immediately
Full control
Independent of platform algorithms
Individual targeting according to behavior and recipient
Properties
GDPR compliant
Browser-based Opt-In und Opt-Out
No personal data necessary
Simple to use
Enter image, short text and link
Set send time and recipient or set triggers resp.
define work flow
Cons
No iOS support
Apple so far only enables Web Push via the Safari browser on desktop computers (macOS). Therefore, the combination of Web with Wallet Push via an invitation switch is recommended.
02 App Push
A must-have for apps
Many apps only send simple, fixed notifications without an interface. This means that marketers cannot customize messages or workflows. For many valuable notifications from apps, however, a connection via API to backend systems makes sense. For example, information on travel bookings and the like can be sent. In addition, actions in the apps or longer inactivity are also suitable as triggers for notifications.
03 Wallet Push
More than just a web push supplement
for iOS
This is how Wallet Push works: On the website, iOS visitors are invited to add a News Card. After adding the card, recipients can then receive messages. The Wallet Card can be updated with matching content and images with each new message. In addition, QR codes can be added, loyalty functions or geo-fencing can be used.
04 Messenger Push
For service and news media
001 // News per WhatsApp
WhatsApp is used by 58 million Germans every day*. Unfortunately, the messenger cannot be used for promotional marketing communications:
Free messaging is only allowed within 24h after user interaction via WhatsApp with the company.
High cost of 8 cents per message per recipient after 24h.
Messaging only with pre-approved templates without promotional content.
→ Therefore, WhatsApp notifications are only for 1:1 interactions and targeted messages such as reservation confirmations
or appointment reminders
002 // News per Facebook Messenger
Around 16 million Germans use Facebook Messenger every day*. Unfortunately, this messenger cannot be used for promotional marketing communication either:
Messaging is only available for registered news publishers.
Only editorial content is allowed.
→ Therefore, only news media can offer their customers up-to-date news via Facebook Messenger.
003 // News per Telegram Messenger
Telegram Messenger is used by just under 8 million Germans every day**, or about 10%. Marketers can offer free newsletters through Telegram Messenger. So it is an excellent option especially for iOS, but will not be able to reach all iOS users.
*Source: Facebook, Sep 2019
**Source: Source: https://de.statista.com/statistik/daten/studie/1032143/umfrage/nutzung-von-messengern-in-deutschland/
Push Notification
Decision-Matrix
If you have a website and you want customer loyalty
it is important to…
Use Web Push Notifications
If you have an app and enough active users
…
If you don't have an iOS app, but have a significant
iOS customer share…
If you have a lot of 1:1 interactions or a messaging
portal…
with Blitzstart
just start
001 // Faster Time-to-Market and
minimal IT effort
Integration into website and app is done in minutes thanks to plugins for standard systems. Using feeds, interfaces and connected services such as Zapier, Mobile Push can flexibly and seamlessly interact with existing CRM, ERP, PIM and data warehouses.
002 // Triggering, Automation
Workflows und Customization
The key to highly individualized communication at best-in-class level is comprehensively integrated tracking with Audience Data Platform. This means, for example, that all page views are captured automatically by default, making them available for segmentation and automation without having to be tagged or added from another system.
Choosing the right provider
Push providers can be roughly divided into the following categories:
Single Channel Push
Specialized in web, app or messenger push, usually without advanced technology for tracking, segmentation and automation.
Mobile Marketing
Come from the app push area and often have weaknesses in web push.
CRM & E-Mail Service Provider
Sometimes Web Push is mentioned as an additional channel on feature lists, but is only supported superficially or awkwardly.
All-in-One Push Marketing Automation
In addition to the basic functions, segmentation and automation are fully possible without connecting additional tools. All major push notification channels are supported.
Data handover versus comprehensive tracking
Almost all providers say that they are committed to segmentation and automation. However, if you take a closer look, there are considerable differences in implementation and characteristics. For example, the implementation effort is high and must be adapted at each expansion stage if only individual events and user properties can be transferred. Many use cases also require proper real-time user profiles and not just static segment assignments, i.e. a professional audience platform.
Further decision criteria
Customizations
Is the provider willing and able to make adjustments? In many cases, marketers reach their limits with standard segments and interfaces and need an agile partner at their side.
Support & Consulting
Are requests only possible by e-mail and in English? What about premium support for technical issues and support needs?
Privacy (GDPR)
Can data protection compliance be proven? For responsible parties must, according to Art. 5 para. 2 GDPR that the processing of personal data is lawful.
Pricing
In addition to the obvious pricing model, attention should also be paid to how cancellation periods are structured, what happens if the booked number of recipients is exceeded, or whether dramatic price jumps are imminent for additional functions.
Conclusion:
Push
Notification
Marketing
is…
the most direct way to users with high interest
a new remarketing channel in an ad-like format
cheap thanks to shipping flat and "FREE" editions
effective content distribution
State-of-the-Art communication
Privacy-compliant permission marketing
Integrated and set up quickly
easy and fun to use
data-driven (behavior and interest-based) sensationally successful
especially easy to automate in combination with tracking, Wawi, CRM & Shop
easily done with Signalize