Content Distribution for intensive customer relations
on iOS and Android phones with and without app
Marketing communication in the messaging age
Smartphones in combination with social media and messenger services have permanently changed communication behavior. Companies need more agile marketing communications than ever before to keep pace with their customers. However, mobile communication not only presents marketers with challenges, but also brings opportunity
to get much closer to the customer and get in contact with them more frequently. This works,
but only if the communication is fitting and worth it for the customer. Because in the new
Messaging and feed era, the customer decides who will inform, inspire him and how,
marketers are allowed to interact with them.
Reach users

where
they are.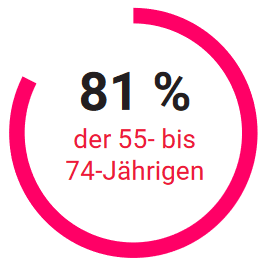 own a smartphone in Germany
Source: Deloitte Mobile Consumer Survey 2018
Communication is mobile:
Even the 55+ generation uses its smartphone and the new communication channels such as social media and WhatsApp intensively.
Reach users

where
they want to be reached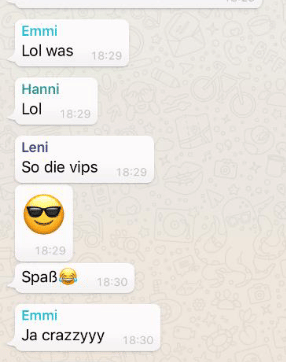 Short, crisp content is in demand
in high frequency.
Users want to have the choice
which channnels
they want to get
informed from
And they expect valuable
communication that fits them.
The direct line to the customer
is
as important
as never
before.
Owned Media First.
Two major challenges will keep marketers busy in the near future:
On the one hand, ad remarketing is in massive danger due to more strongly enforced legal regulations and browser restrictions.
On the other hand, access to the customer is increasingly controlled by gatekeepers and declared to be the core of the business model.
This inevitably creates dependencies and rising costs.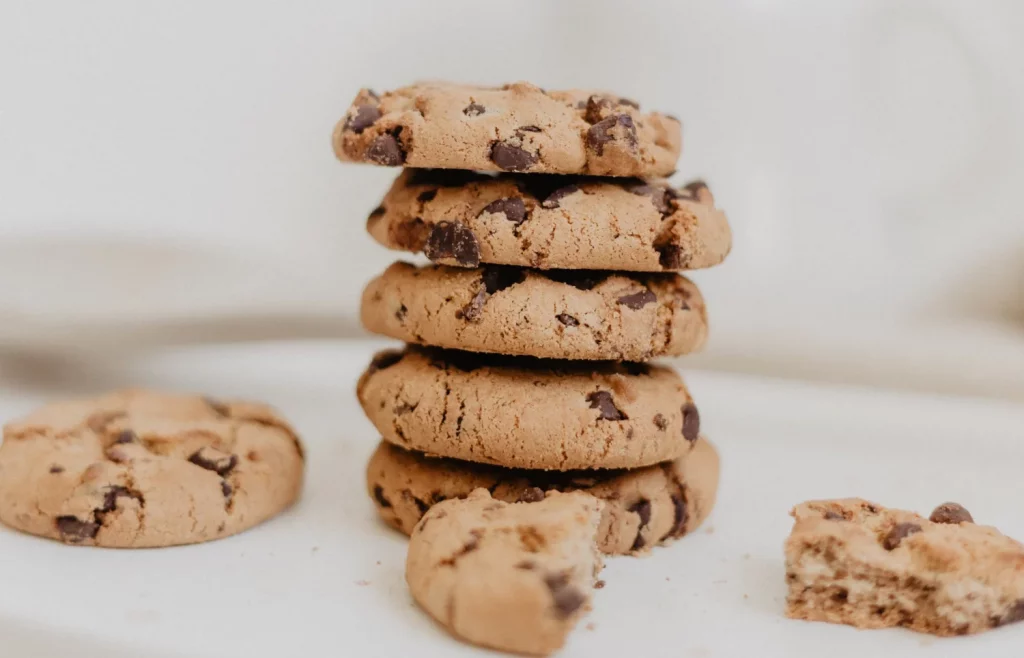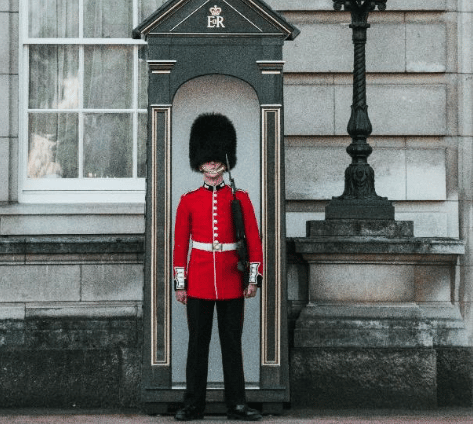 001. // Remarketing vs. data protection
If the requirement for informed, active, voluntary cookie consent is met, cookie-based advertising suffers tremendously.
Likewise, Apple and Mozilla are constantly tightening the tracking protection of their browsers.
Permission marketing offers an alternative here, which does not require personal data and is proven to be GDPR-compliant.
002. // Gatekeeper-platforms
Whoever controls customer access controls the market.
In today's online market, it is primarily the so-called GAFAs (Google, Amazon, Facebook and Apple) that dominate the market with attractive services.
However, the greater the dependency, the greater the risk of being left behind in the event of algorithm, cost and other
changes.
Why use a new channel?
There is E-Mail after all!
In contrast to SMS, e-mail continues to enjoy great popularity. The mobile marketing mix should therefore not be about email, social media or push notifications. but rather about an intelligent mix of all of them, with mobile push offering unique advantages:
001. // E-Mail versus Push
Notifications
Email is not real time, it lands in the inbox first, possibly even in the ad tab. Push notifications, on the other hand, have a 90% open rate compared to 25% for email*.
Creating and sending emails is time-consuming. Creating push notifications is even really fun: short text, link and thumbnail image –
done!
Email lends itself to more comprehensive content and weekly to monthly updates that are not reflected on the website in the same way.
However, push notifications tolerate more frequent frequencies and also promote "small" news, tips, offers, etc. excellently. Communication messenger style.

*Source: Branchen Benchmark E-Mail Marketing Newsletter2Go 2019

The four types of
Push Notifications
Overview:
Messenger
Push
Via WhatsApp for 1:1
communikation und facebook
messenger für news-media.
Web
Push
On desktop and smartphones except
for Internet Explorer und iOS-
devices
App
Push
messages from Apps, depending
on existance and dissemination
Wallet
Push
Notifications via Apple
Wallet News & Loyalty Cards.
01 Messenger Push
For service and news media
001 // News per WhatsApp
WhatsApp is used by 58 million Germans every day*. Unfortunately, the messenger cannot be used for promotional marketing communications:

Free messaging is only allowed within 24h after user interaction via WhatsApp with the company.
High cost of 8 cents per message per recipient after the 24h.
Messaging only with pre-approved templates without promotional content.
→ Therefore, WhatsApp notifications are only for 1:1 interactions and targeted messages such as reservation confirmations
or appointment reminders
002 // News per Facebook Messenger
Facebook Messenger is used by just under 20% of Germans every day*. Unfortunately, this messenger cannot be used for promotional marketing communication either:

Messaging is only available for registered news publishers.
Only editorial content is allowed.


→ Therefore, only news media can offer their customers up-to-date news via Facebook Messenger.
*Source: Facebook, Sep 2019
02 Web Push
Messenger-like via Browser without
content and amount limits
001 // This is how Web Push works
On the website, visitors can consent to receive messages.
Then, recipients receive messages directly on their (lock) screen.
By clicking on the message, they are taken to the target page.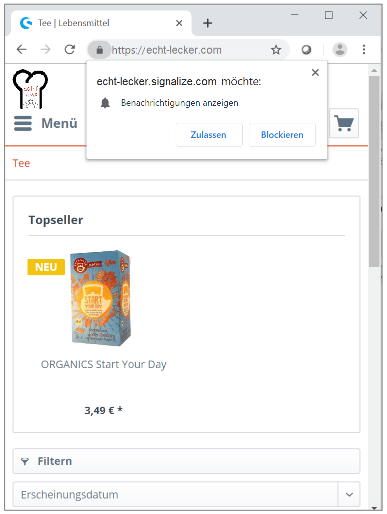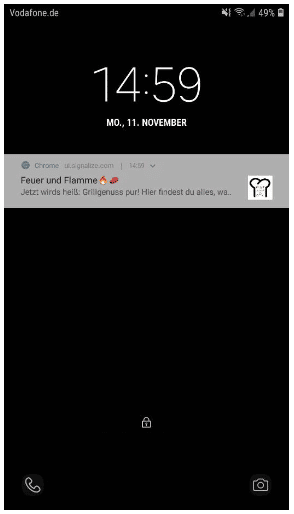 002 // Anatomy of a mobile
Web Push Notification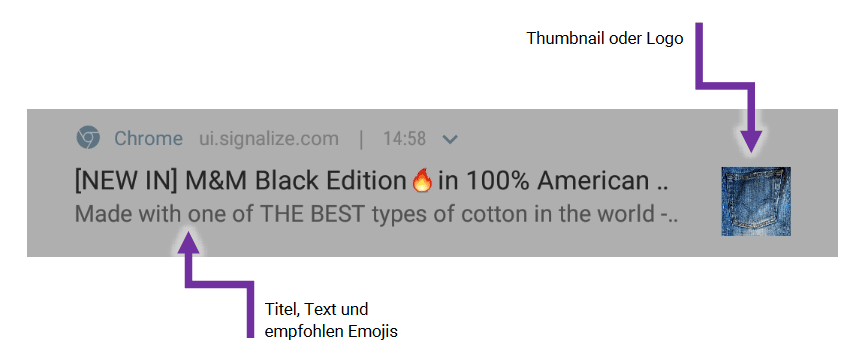 003 // Anatomie of a Desktop
Web Push Notification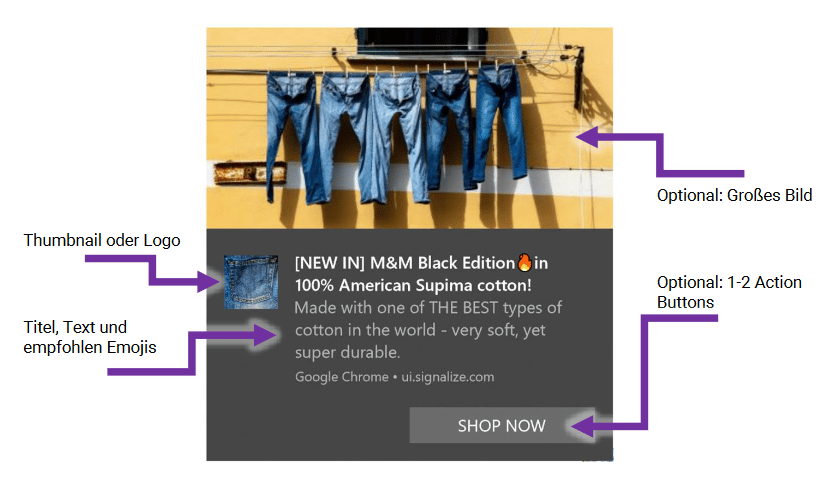 004 // Pros and Cons of Web Push Notifications
S
Analysis Strength
Extremely attention grabbing
Brief messages to the point
Appear on the screen immediately

Full control
Independent of platform algorithms
Individual targeting according to behavior and recipient
Properties
GDPR-conform
Browser-based Opt-In und Opt-Out
No personal data necessary
Simple to use
Enter image, short text and link
Set send time and recipient or set triggers resp.
define work flow

W
Analysis Weakness
No native iOS support
So far, Apple only enables Web Push via the Safari browser
on desktop computers
03 App Push
A must-have for apps
001 // Especially for apps
For many valuable notifications from apps, a connection via API to backend systems is useful. For example, information about travel bookings and the like can be sent.

Besides that, any actions in the apps or even longer inactivity can trigger notifications.
04 Wallet Push
More than just a web push supplement
for iOS
001 // This is how Wallet Push works
On the website, iOS visitors are invited to add a News Card.

After adding the card, recipients can receive messages. At the same time, the Wallet Card can be updated with offers,
Codes and much more.
In addition, QR codes can be added, loyalty functions or geo-fencing can be used.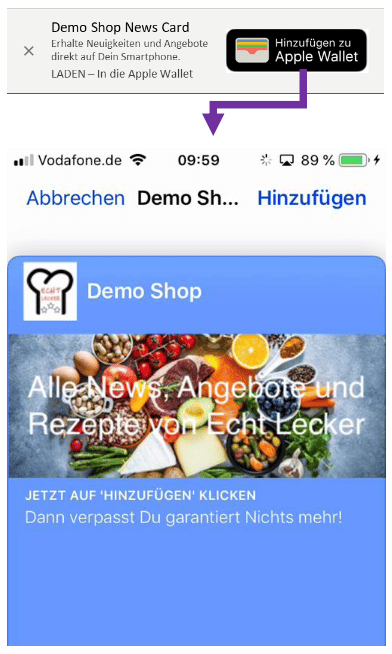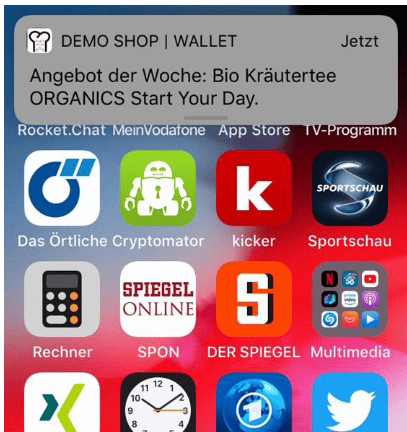 Push Notification
Decision-Matrix
If you have a website and you want customer loyalty
it is important to…
Use Web Push Notifications
If you have a lot of 1:1 interactions or a messaging
portal…
If you have an app and enough active users
…
If you don't have an iOS app, but have a significant
iOS customer share…
with Blitzstart
just start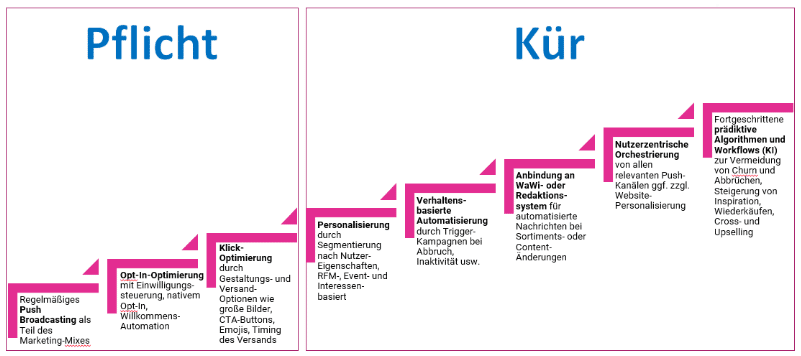 001 // Faster Time-to-Market and
minimal IT effort

Integration into website and app is done in minutes thanks to plugins for standard systems.

Using feeds, interfaces and connected services such as Zapier, Mobile Push can flexibly and seamlessly interact with existing CRM, ERP, PIM and data warehouses.

002 // Triggering, Automation
Workflows und Customization
The key to highly individualized communication at best-in-class level is comprehensively integrated tracking with Audience Data Platform.

The service orientation of the provider is also decisive in this respect, in order to be able to react flexibly to individual requirements.
Conclusion:
Mobile
Push
Marketing
is…
the most direct way to users with high interest
a new remarketing channel in an ad-like format
low-priced thanks to shipping flat and free basic editions
effective content distribution
State-of-the-Art communication
Privacy-compliant permission marketing
Integrated and set up quickly
easy and fun to use
sensationally successful data-driven (behavior and interest based)
particularly easy to automate in combination with Wawi, CRM & Shop