Best Practices for Customer Engagement and Conversion Recovery in the Age of Messenger Communications
Chapter 1
Rise of the new communication channel
Communication behavior has changed rapidly and fundamentally in recent years due to chats and messengers: What is needed today is shorter content and higher frequencies in a modern form!
This is how your customers communicate today:

As a company interested in contemporary communication with its customers, you should take advantage of this change.
Messaging apps themselves are not currently suitable for marketing communications beyond 1:1 dialogs due to their policies. Web Push steps into this breach. This is because Web Push is the only broadcasting channel that offers Messenger-like content and address.
Web Push is thus an excellent complement to existing CRM marketing, especially when it comes to smaller tidbits of information. This can significantly increase the touch points and engagement with your users.
In addition, Web Push is based on a recognized standard of the World Wide Web Consortium (W3C), so that impending losses in ad remarketing due to tracking protection initiatives of browser manufacturers are absorbed.
It's clear that Web Push makes sense as an important new marketing channel for any business. To help you get started successfully with Web Push, we have summarized the most important know-how for you below.
Web Push is fun and brings success!
Even I don't miss the opportunity to create push notifications myself every now and then. The notification is created and sent in no time. And automated campaigns are also implemented in no time: from welcome notifications to reminders about abandoned carts to reactivation campaigns, only a few clicks are required."
Chapter 2
How do web push notifications work?
Web Push Notifications are clickable messages delivered directly via web browser and can be received on desktops, tablets as well as smartphones (except still from iOS). All leading browsers (like Chrome, Firefox, Edge, Opera) support this channel.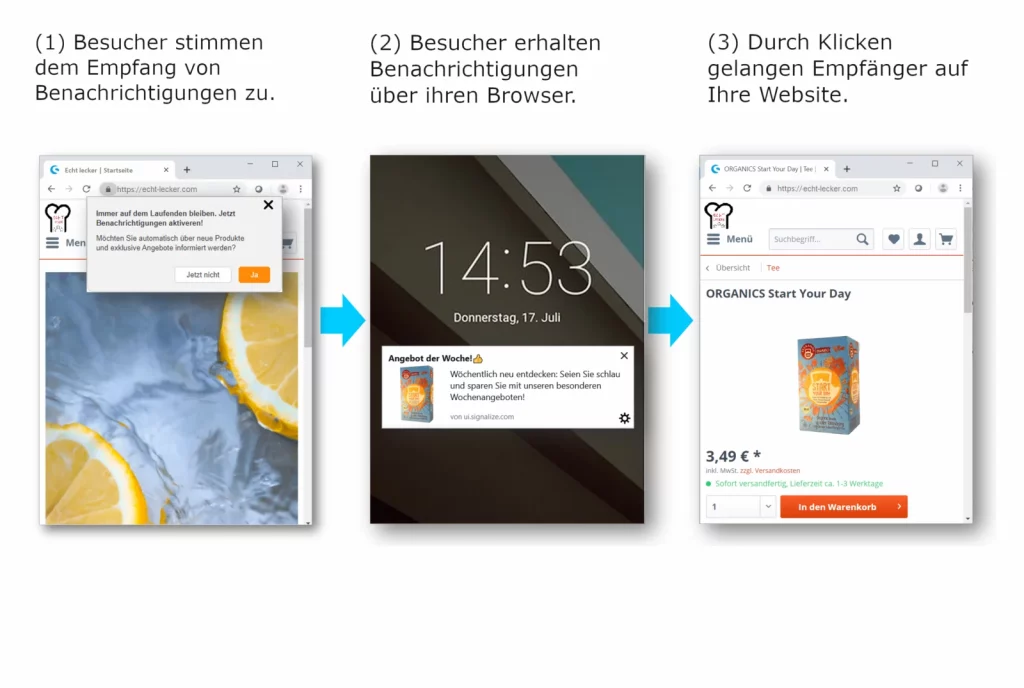 The notifications appear on the screen regardless of which website is currently being accessed – and even which app is in the foreground. As long as the browser has not been actively closed, your message will be displayed even if the user is currently using another app.
Since web push notifications are generally only sent after consent has been given in the browser and no personal contact data is required, they are particularly privacy-friendly.
To get started, all you need to do is integrate a small snippet of code into the website and a note in the privacy policy. Once the opt-in is enabled, recipients are collected to whom messages can be sent.
Chapter 3
Tuning Tipps
The best push notifications do not lead to success if the recipient group is (too) small. Therefore, measures to increase the opt-in rate form the basis for successful web push marketing. Proper planning, conception and design of push notifications ensure that they are clicked on as often as possible and thus lead to a visit to the website. Conversion rates of more than 30% after the click on the website are possible, but not self-evident. To achieve the maximum conversions and engagement, the approach via push and the content on the website must go hand in hand.
These three levers will help you get the most out of your web push marketing: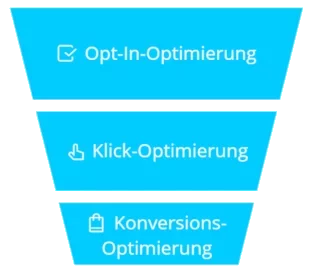 Below are tips for Web Push success optimization on all three levels.
Chapter 4
Opt-In-Optimisation
To gain as many subscribers as possible for your web push channel, you need to maximize the opt-in rate. The following tips for designing the opt-in dialog should be considered for the highest possible consent rate:
Nativ beats Subdomain
Opt-ins can be collected via your own domain or an individual subdomain – such as yourwebsite.signalize.com. The latter method requires a two-step process that can result in a significantly high bounce rate between invitation and consent. With native opt-in, i.e. the invitation via your own domain, you usually achieve significantly higher opt-in rates.
More Opt-In Options
Unfortunately, with the native opt-in and the invitation via your own domain, you cannot technically customize the native browser dialog. However, you have the option to display a banner on the website at the same time as the opt-in dialog to give more prominence to your Web Push service and explain its benefits, as well as link to your associated privacy notice.
In addition, inviting visitors just before they leave the site (with so-called exit intent triggers) can be a very successful strategy for staying in touch with users. The opt-in invitation can also be linked to an order, registration or similar.
It is already common practice in eCommerce newsletters: visitors to the stores are offered the prospect of a discount voucher if they register for the newsletter. Such additional incentive for opt-in is highly recommended for further increase of Web Push subscribers.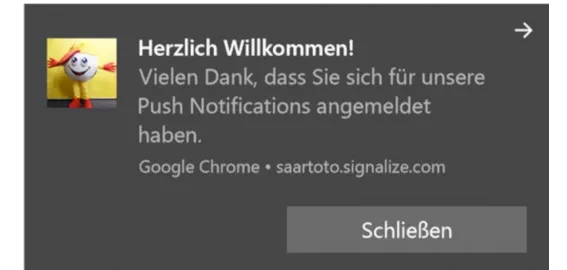 Chapter 5
Click Optimization
With these tips, you can make the push messages in your web push channel attractive and ensure a noticeable increase in website visits:
Design
Thumbnails are a must, whether with logo for recognition or matching the content of the message. Additionally enrich your message with emojis, a large image, or a call-to-action button to get an uplift in clicks.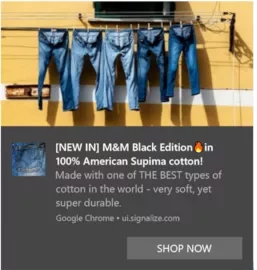 Timing
If private individuals are addressed, Saturday and Sunday lunchtimes have proven to be particularly successful periods for sending messages. In the business environment, on the other hand, Tuesday to Thursday early in the morning or in the evening are more promising. We recommend testing different days and times to find the ideal times for your web push message.
Segmentation
Not every message is equally relevant to all recipients. Therefore, it should always be considered who is to be addressed and whether a different approach makes sense. By means of so-called segmentation, individual customer groups can be selected, such as particularly valuable or loyal customers, in order to grant them exclusive benefits.
The following types of segments can be distinguished:
Sociodemographics: gender, age, etc.
Derived user attributes: Recency-Frequency-Monetary (RFM),
Customer category (z. B. A-B-C-D), Customer-Lifetime-Value (CLTV).
Interests & Preferences: Top categories, popular topics, product attributes and brands.
Session & Journey Behavior (Intent): Page A accessed, contact form B filled out, video C watched, whitepaper D downloaded, product E purchased, etc.
Chapter 6
Conversion optimization
Notifications allow only limited content and are hidden when clicked. Therefore, the interaction with the target page is of immense importance.
Often, therefore, the message serves to tease suitable content on the website. Successful occasions include:
Tip of the Week
Offer of the Day
Top Topic of the Day
Current Best Seller
New Products
New Offers
But is it also ensured that the content is easy to find on the landing page? Sometimes it is advisable to dynamically adjust the landing pages to lead as many web push clicks to conversions as possible. This is where solutions such as the etracker Optimiser help, with which content can be displayed according to behavior and further optimized through A/B tests.
Coupon Marketing
Coupon marketing is an important part of the marketing mix in B2C commerce. No wonder that product discounts by sending vouchers via web push notifications are popular and, above all, very efficient. The voucher link can simply be stored as a target link in the Web Push or the voucher code can be appended to the target url (example: ?voucher=code).
Conversion Recovery
By optimizing landing page content, designs, buttons, forms, etc., bounce or exit rates can be minimized. Using exit-intent technology, the conversion rate can be increased once again by addressing desktop users based on their mouse movement behavior before they supposedly leave the website. This can even be used to enable subsequent targeted web push, for example in the form of notifications when items become available again.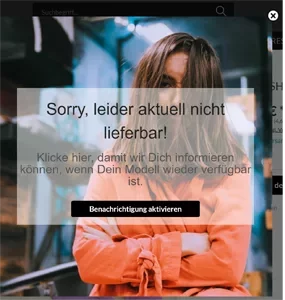 Chapter 7
All According to Plan
Web push notifications are very easy to create and send with the click of a button. However, they require a well thought out plan to achieve maximum success. This is because consistency and continuity, i.e. maintaining a suitable notification frequency, are just as important as the relevance and attractiveness of the individual notifications.
From audit to plan
Start your Plan by considering what your exact goals are and how Web Push Notifications will ideally integrate with your communications and content strategy. This includes an audit of existing as well as planned content from all other marketing channels, such as newsletters and blogs. Already have a content production and marketing action plan? Then you can use this as a foundation and use Web Push Notifications as an additional channel to further promote the content and promotions it contains.
Be experimental and creative
Your subscribers expect useful, relevant notifications like educational tips, hot news or attractive deals. Score points with your customers with varied, easy-to-grasp notifications that are refreshing to read and arouse curiosity. Humor is also (almost) always well received. Feel free to have a little courage and draw from the extensive fund of occasions. Whether B2B or B2C, numerous occasions can be found for every industry and every company:
Notices of new content such as blog articles, whitepapers, videos, etc.
Invitations to participate in events such as online seminars or store openings
Product and assortment news
Promotion of special offers and discount campaigns
Special events, holidays and special occasions
Some event occasions are obvious because they are directly related to the core business of the online store: the upcoming Mother's Day for flower retailers or the impending onset of winter for tire retailers. With a little imagination and ingenuity, however, many other occasions can be used as a hook for notifications: from birthdays to the time change to the lunar eclipse.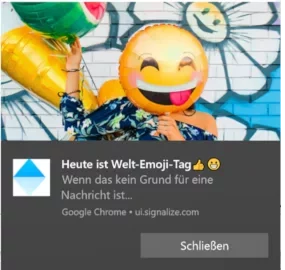 Chapter 8
Marketing Automation
Automated workflows save you a lot of time and manual effort. It also allows you to target recipients behaviorally in the right context or automatically inform recipients about new items or price reductions. Here are some examples of automatable trigger campaigns that can be perfectly tailored to your needs and your recipients:
Follow-Up
The push notification is sent following orders, registrations or other conversions:
Please rate or feedback following the delivery of the goods.
Submitting up and cross selling offers to match previously ordered items
Tips for Use and Maintenance
Sequence of notifications with tips and tricks as part of the onboarding process
News Feed
The push notifications are triggered by changes in assortment or website content based on user preferences:
Alert for new articles, posts or events
Price reduction alerts
Alert on reavailability
Alert for imminent sellout
Behavior-based
Triggers for push notification are certain behaviors of subscribers when visiting the website:
Conversion rescue on abandonment after browsing, searching, in the shopping cart,
at checkout etc.
Longer period of inactivity (no visit to the website or no order)
Use or non-use of certain functions (for targeted tips)
Welcome message after web push consent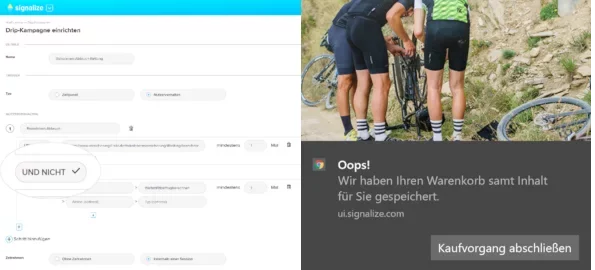 Chapter 9
Step by Step
The maturity levels of web push marketing:

Web Push is a relatively new channel and it's important for many companies to start with a test balloon to get an idea of its simplicity and campaign performance. It usually doesn't take long to be convinced of user acceptance and hardly any marketer wants to do without the Web Push instrument after the first campaigns.
Once marketers master the basics of web push marketing, they want to further increase success rates with minor tuning measures to increase signups, clicks, and conversions.
At the latest when marketers become more sophisticated and want to reach the next levels of web push marketing, choosing the right technology is key. This is because the data basis is crucial for personalization and automation. And only a holistic web push marketing automation platform with integrated tracking enables teams to generate first-class communications in these disciplines without requiring complex IT or expensive consulting projects.
That's why companies should keep an eye on the expandability of their Web Push solution right from the start, so that they don't run up against limits that are difficult to overcome shortly after implementation.

Chapter 10
Provider Selection
Web Push providers can be divided into the following categories:
Pure-Play Web Push
Specialized in web push, mostly without advanced technology for tracking, personalization and automation.
Mobile Marketing
Strong in app push, but rather weak in web push.
CRM & E-Mail Service Provider
Sometimes Web Push is mentioned as an additional channel on feature lists, but is only supported superficially or awkwardly.
Web Push Marketing Automation
In addition to the basic functions, segmentation and automation are fully possible without connecting additional tools.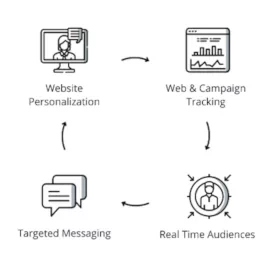 Campaign-based data transfer versus comprehensive tracking
Almost all vendors list segmentation and automation as features. However, if you look more closely, there are significant differences in implementation and expression. If only individual events and user properties can be transferred, the implementation effort is high and must be adapted for each expansion stage. Many use cases, on the other hand, require real real-time user profiles, not just static segment assignments.
Further decision criteria
CustomizationIs the provider willing and able to make adjustments? In many cases, marketers reach their limits with predefined standard segments and interfaces and need an agile partner at their side who can customize the solution.
Support & ConsultingAre requests only possible by e-mail and in English? What about premium support for technical questions and the need for individual consulting?
Privacy (GDPR)Can the provider prove data protection conformity – for example, by means of appropriate certificates? Website operators must, according to Art. 5 para. 2 GDPR prove that the data processing is lawful.
PricingIn addition to the obvious pricing model, attention should also be paid to how cancellation periods are structured and what happens if the booked number of recipients is exceeded or whether dramatic price jumps are threatened for additional functions.
About Signalize
Signalize is the simple, cost-effective all-in-one solution for web push marketing automation from etracker. Thanks to integrated, comprehensive tracking, very detailed user segments can be used to target campaigns. Based on visitor behavior as well as user characteristics, device and geo-data, you reach the right recipients with the appropriate address.
Signalize is enabled in a snap, but also provides APIs for even the most demanding orchestration projects.
Signalize is demonstrably GDPR compliant proven with the independent ePrivacyseal privacy seal of approval.
Our account managers, support specialists, onboarding managers and consultants are there to help you succeed.