7 reasons why marketers love Web Push
Communication is changing through chats and messengers: shorter content and higher frequency in modern form are in demand! This is how your customers communicate today:

Team communication in companies is also changing.

Web push doesn't require time-consuming copywriting and content styling: Upload an image, get to the heart of the message, insert a link – and you're done!
The notifications appear directly on the screen and thus do not run the risk of being lost and not being noticed.
With remarketing using Web Push, you are not dependent on bids and rankings, but determine 100% yourself who receives the notification and when.
Web Push preserves your marketing budget. This is because – unlike with ads, SMS or messenger services – there are no costs for you either when sending or when clicking.
Since notifications can generally only be sent after consent has been given in the browser and no personal contact data is required, they are particularly privacy-friendly.
Marketing automation can be implemented in no time with Web Push: For example, automated welcome notifications or reminders about abandoned shopping carts are possible. only four clicks required.
How do web push notifications work?
Web Push Notifications are clickable messages delivered directly via web browser and can be received on desktops, tablets as well as smartphones (except iOS devices). All leading browsers (like Chrome, Firefox, Edge, Opera) support this channel.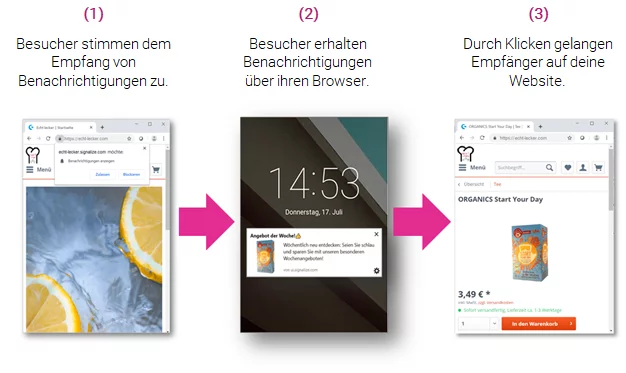 Optionally, you can enhance your notifications with large images and buttons, send scheduled later or continuously, set up multi-step workflows, segment, personalize, and more.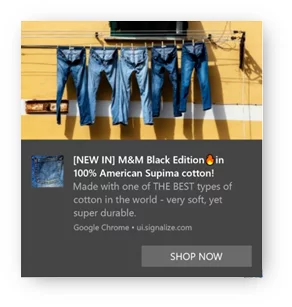 What is so special about Signalize?
Because notifications have high visibility, their success depends largely on how relevant the content in question is to the recipient: the more closely the notifications are aligned with customers' interests and signals, the higher the chances of success.
To enable this, Signalize provides integrated tracking and customer data platform. This allows you to use the behavioral data obtained, processed as individual user profiles and real-time triggers, for targeted web push marketing.
No tedious tethering of disparate tools: Tracking and web push marketing go hand in hand, so you can access the appropriate customer segments and triggers directly when you create notifications.
Segmentation
Not every message is equally relevant to every subscriber. You can select by frequency of visit, time since last visit or last order, areas of interest, and much more.

Marketing Automation
Automatically have welcome notifications or specific notifications sent to selected recipients on a continuous basis; also multi-level with drip campaigns is possible.

This is what marketers say
"We use Signalize to inform our guests quickly, efficiently and specifically about news and promotions. In a very short time, other functionalities of Signalize were also developed, so that the product now has a regular place in our customer communication."
"With Signalize, we have found a new communication channel that has significantly increased both traffic to our site and conversions. It allows us to inform our customers quickly and easily. The Signalize team has supported and advised us very well from the beginning."
"Signalize makes it possible for us to communicate news to our users in an instant."
"Promoting our customers efficiently and in compliance with the GDPR is enormously important to us. Signalize Push Messages makes this possible – and fun too!"
"We are always looking for new ways to communicate with our users. Signalize creates a variety of ways to bring web push messages to the end user in a user-friendly and -relevant way."